Two Central Otago businesses have recently supported us with some very generous donations. Our thanks for their wonderful support.
Generosity completes circuit
The walking circuit is complete and residents at Elmslie House Care Home and Wanaka Retirement Village can wander around the gardens with ease, thanks to the generosity of Concrete Brothers Ltd.
"Walking around the adjacent facilities is a daily activity for many residents and now they can do it on a firm surface, which is particularly appreciated by those with walking frames," says Jacqui Boylen, Enliven Wanaka Manager.
"The Concrete Brothers offer to provide this much needed link for us was totally unexpected and the end result by a friendly, professional crew can't be faulted," she added.
"It's a huge morale boost to us when a commercial concern recognises the work we do and offers its services in support of that. I can't thank them enough."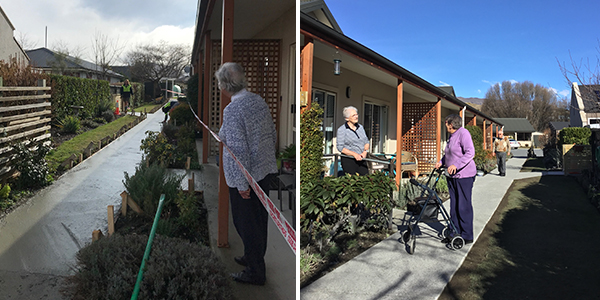 Left: Villager Joan Clay inspects progress on the Concrete Brothers path linking Elmslie House with Wanaka Retirement Village.
Right: Doris Watts, seen chatting to Shirley Gilchrist, is delighted with the new path because her feet and walker wheels now stay clean during her daily walks around the Village.

Curtain donation adds warmth
As part of their recycling efforts Millennium Hotels in Queenstown recently donated over 100 sets drapes following refurbishments at the Copthorne Lake Front Hotel and Copthorne Apartments.
Presbyterian Support Otago and Anglican Family Care received the donation and together with other social agencies they have distributed these among families in the wider Central Otago area.
Feedback from recipients is that they were overwhelmed by the generosity and quality of the drapes. Going from thin cotton drapes or old tired thermal drapes to large warm blackout drapes has improved the well-being of many clients who are struggling with the winter chills.
The difference in thermal properties has been immediately noticeable and should considerably reduce heating costs. This is often the largest, and possibly most unaffordable, portion of winter expenses for many recipients.
Thank you Millennium Hotels - your generosity has improved the wellbeing of many people we support in Central Otago.