Thinking outside the square about how best to meet the increasingly complex needs of clients of all ages has been at the heart of our thinking in the last 12 months.
It has been a busy and exciting year. We have received financial donations, food for the foodbank, toiletries for our families, hand-made knitted blankets, duvets, toys and books, preloved items for resale, and our volunteers have put in many hours to help us out in all areas of our organisation. We are very grateful to you all who have helped us achieve great things for our communities.
The Annual Giving campaign raised a total of $240,303 in financial donations between July 2018 to June 2019.
One of the highlights this year was receiving ten hand knitted blankets from the girls at Columba College. The girls started this project at the beginning of the school year. The more experienced knitters provided training for those who had not tried knitting before.
We have gifted the blankets to clients to keep them warm this winter. You can see one of our clients – Vanellope – treasuring her new blanket below.
The Taieri Gorge Rail Walk Fundraiser was a real hit and we filled the train with 400 keen supporters. We really appreciated the support from Dunedin South Lions Community Trust and Dunedin Railways and the many volunteers for making this day possible.
We received a total of $15,733 for the leaders at YouthGrow to further their education. On top of this, we raised $1,500 from the raffle held on the day. Thank you to Tuapeka Gold Print for the donation of the raffle prizes.
We are delighted to have received over 95,700 items donated to the foodbank over the past 12 months.
All of us at Presbyterian Support Otago are very grateful for the ongoing support we receive from you all and we are confident that the next 12 months will be an exciting time for the organisation. We simply could not offer the programmes and services we do without your help. Thank you!
If you would like to support us you can make a donation here or contact fundraising@psotago.org.nz to discuss your fundraising idea.
Above: Columba College students donate their knitted blankets. Photo courtesy of ODT.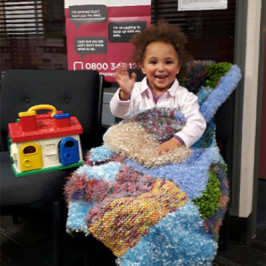 Vanellope enjoying her new blanket.