---
Shirley's incredible 30 years at Iona
The joy of giving back to your community - meet volunteer Isla Ryan
---
Shirley's incredible 30 years at Iona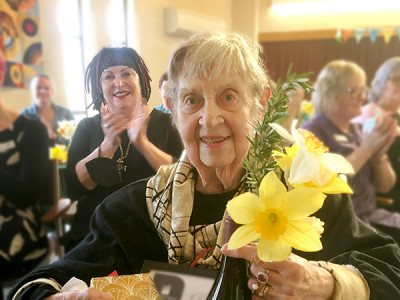 Shirley Gillies, at 98 years young, is one of our wonderful volunteers at Iona care home in Oamaru, where she has been volunteering for 30 years!
We were delighted to honour Shirley's service recently by presenting her with a Presbyterian Support Otago (PSO) Achievement Award and some special gifts.
At this event, fellow volunteers Joan Mulligan and Joy Rusbatch received awards for 20 years' service and other volunteers were acknowledged along with staff who achieved training and service milestones.
Shirley lives with daughter Fleur, and every other Friday drives herself to Iona to play the piano during happy hour, to the delight of residents and staff.
Bev Nuttall, Iona's Activities Coordinator Supervisor told those gathered at the Awards ceremony "Shirley is an amazing lady, and I think I can speak for every woman here and out there when I say that I want to be like you when I grow up!"
"When we went into lockdown Shirley was devastated because she couldn't come and play for us. When we were able to have volunteers back, so long as they did a RAT test and wore an N95 mask, they could return, and Shirley was one of the few who jumped at the chance." said Bev.
Not only is Shirley a gifted piano player, she is also a talented and recognized author, having written limerick and story books, and copies of some of these can be found at Iona.
Volunteering isn't the only connection that Shirley and her family have with Iona. Her mother Isabella McFarland Grave, together with Mr Albert Grave, and R K Ireland, gifted the land on which Iona stands to PSO in 1944.
We thank Shirley, her forebears, and all our amazing volunteers who help in our care homes across Otago, in our Family Works services and in our Op Shops!
---
Dunedin Volunteer Awards 2022
Did you know PSO holds its own staff and volunteer Achievement and Service Awards at each PSO site every year?
Last year we were excited learn of another way our volunteers are being recognised and celebrated – at the Dunedin SBS Volunteer Awards, which were held again this year on 25 September and hosted by Volunteer South.
We are delighted to announce that a raft of PSO Volunteers were recognised at the SBS Dunedin Volunteer Awards.
The Buddy Programme won the Transformative Volunteering category, and our Family Works Foodbank won the Resilience and Adaptability category and were Highly Commended in the Collaborative Volunteering category.
Our Dunedin Club Enliven Drivers were finalists for Team of the Year.
Three of our volunteers won the coveted Judges Award: Jan Letts (Stepping Stones), Julie Cecchi (Ross Home) and Marion Oliver (Shop on Carroll).
Also recognised on the Volunteer Honours Board was Neil Burrows (Stepping Stones).
Well done to all our Award winners and nominees! We would like to extend a huge thank you to all our volunteers, who continue to give their time and support throughout Otago!
Foodbank Coordinator Marilyn Donaldson and volunteer Audrey Clarke accepting the awards on behalf of the Foodbank. Photo credit: Volunteer South and Blake Armstrong of Armstrong Photography NZ.

Jan Letts with her Judges Award for Longstanding Commitment to Volunteering. Photo credit: Volunteer South and Blake Armstrong of Armstrong Photography NZ.

Club Enliven Dunedin Drivers William Torr and Lance Cross.

Volunteer Julie Cecchi (right) at Ross home with Michelle Marsh (Activities Coordinator).

Marion Oliver

The wonderful Marion Oliver has been volunteering at our Op Shops for 15 years, for up to 20 hours per week!

At a time of life when some people are slowing down, Marion is a sewing Maestro, creating the sustainable reusable fabric bags our shops use, along with many other craft items.

We did some quick calculations:

We estimate Marion has made over 20,000 bags for the shops.
By helping us to avoid single-use plastic bags, Marion has enabled PSO and its customers to avoid emitting 4,000 kilograms of carbon into the environment.
And she has saved over 2 metric tonnes of material going to landfill.

Marion is living proof of how just one person can make a real difference in the world!
---
The joy of giving back to your community - Meet volunteer Isla Ryan
At Presbyterian Support Otago we have over 540 volunteers across our Enliven care homes and community services, Family Works programmes, foodbank and retail shops. Without this amazing team of volunteers, we wouldn't be able to do what we do!
Meet Isla - better known as the 'Holmdene fairy'. Isla is one of our wonderful volunteers at Holmdene care home in Balclutha.
Those lucky enough to know Isla say she is happy-go-lucky and nothing is ever a problem for her. In July this year Isla was recognised by the Ministry of Health who awarded her for 'Outstanding Achievement, Long Service Volunteer'.
Isla is a dab hand at mending clothing for residents and even staff uniforms. She also spends time visiting with residents and helping with resident outings. Holmdene manager Regan said "Isla also volunteers as a deliverer for Meals on Wheels to the community five days a week".
Isla is well known in the Balclutha community for her baking and regularly does this for the Cancer Society, sick families, patients and staff, not only at Holmdene but also at Clutha Health First. She is an avid member of the local RSA and has extensive involvement in the South Otago Diabetes branch.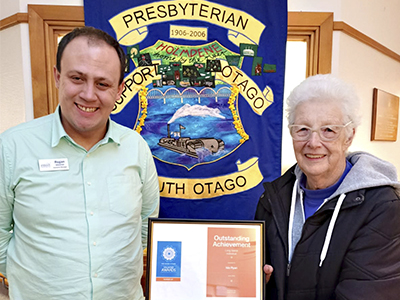 Holmdene manager Regan Gilchrist with volunteer Isla Ryan
We sat down with Isla to find out more about her service to PSO and the wider south Otago community.
How long have you been volunteering at Holmdene and how did you get involved?
I've been volunteering at Holmdene for 20 years now and I worked here for seven years before becoming a volunteer.
What do you do in your role at Holmdene?
I make jam and bake, bring flowers, do sewing and read the paper for residents.
What do you enjoy about volunteering?
I love the older people and want to help where I can.
Tell us a little about yourself and what you like to do when you're not volunteering?
I love baking, I bake for Holmdene and the Cancer Society. I like to knit and I knit singlets for the Clutha maternity unit. I also help out at the Red Cross shop.
Thank you, Isla, for your amazing commitment to all these causes and communities!
Want to be happier? Try volunteering!
Research suggests that volunteers aren't just helping the communities they serve. People who volunteer actually experience a boost to their mental health — good news at a time when many New Zealanders report feeling symptoms of anxiety or depression.
No matter what your skills, we are bound to have a role to fit. Whether you only have a few hours to give, or can assist on a more regular basis, there's something you can do to lend a hand in your community.
If you would like more information about giving your time through volunteering, please contact us at www.psotago.org.nz/volunteer or contact our volunteer coordinator, Jasmin on 027 700 1550.
---