Octacan, the Family Works annual foodbank can appeal
It might be a freezing cold day in Dunedin, the temperature biting as the Octagon slowly comes to life with people of all ages donating cans of food for the Presbyterian Support Otago (PSO) Family Works Foodbank.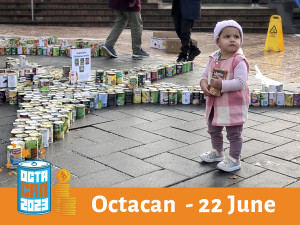 It's known as Octacan and is the brainchild of former PSO Marketing Coordinator, Su Anderson. Wanting to create a public event that created a sense of community as well as providing practical support for the much-needed foodbank, Su put her thinking cap on and came up with the idea.
"In 2009 the foodbank was issuing a record 9,000 items of food over each winter month," says Su.
"People understand the need for our foodbank, so it was on an icy winter day that Octacan was born with people arriving well before the official 7am start to donate cans of food. The weather was chilly, but people's hearts were warm."
The journey of a can starts with this kindness and the path is well travelled. Local schools, individuals and groups all pitch in and there's a plethora of volunteers organising the cans into a special design. In previous years designs have included koru, giant hearts and Matariki stars.
And that's just the beginning of the journey. Recipients like Tracey Cannon, through no fault of their own, have found themselves experiencing financial hardship and are in need of help. A life changing event could happen to any of us at any time.
Tracey is a proud woman and doesn't like to ask for help but when life became incredibly difficult for her, help is exactly what she needed.
Having worked her entire life, Tracey found herself in unchartered territory when a series of health setbacks resulted in her being unable to work. Living on a benefit is difficult and making ends meet is hard.
The journey of a can finds its way to where it belongs – in a food parcel to provide essential sustenance.
Tracey, originally from East London and Waiheke Island, is eternally grateful to PSO's Family Works social worker, Sarah Davis, for the support and practical assistance she has given.
"Sarah and my caseworker from Work & Income have been brilliant", says Tracey. "Over many years I've really struggled with my health and have now found myself in a situation where I can't work because of it. Family Works is like a backbone and the support Sarah has given has been amazing."
While food parcels have helped Tracey, the assistance she received has gone beyond that. Sarah has attended medical appointments with Tracey as an advocate, has helped set up regular payments to her power company and "is on my case, helping me manage my situation."
Tracey is soon to receive long-awaited surgery which will bring a measure of relief and she knows that PSO will be there to support and help her as she begins her recovery.
While the journey of each can has a unique story, the cumulative effect of many cans cannot be underestimated. Su says "with more people organising, running and supporting the annual event, it has grown into maturity."
"It always takes a team to create a successful event including staff, volunteers and the public. I couldn't be prouder!"
Banner: (Left) Su Anderson, who started Octacan in 2009. (Right) Tracey showing her appreciation.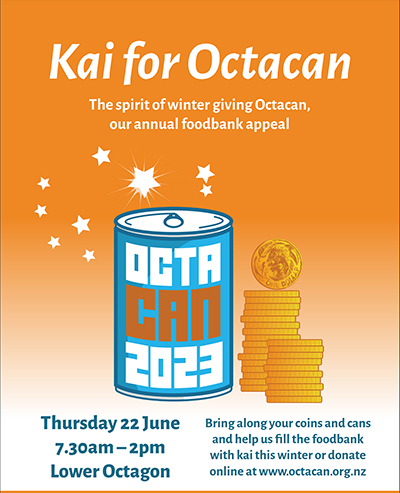 Octacan 2023
By joining us at this year's Octacan and donating a can of food, you will help us keep our shelves stocked. As Dunedin's busiest foodbank, we desperately need food as the demand is at an all-time high.
You can also donate directly to our foodbank online! Visit octacan.org.nz for more information.
Octacan: Thursday 22 June, 7.30am - 2pm, Lower Octagon
Bring along your cans and help us fill the foodbank with kai this winter.
Thank you!
---