Activities coordinator, Virginia, had a plan to create something that the whole community could see and enjoy, and that could be used year after year – a festive Christmas archway!
In the lead up to Christmas, a group of Castlewood residents (Stewart, Joe, Dint, Wayne and Ted), decided to take on this challenge with help from a local builder, Matt Green from Ussher Green Building.
"It was fantastic to see the residents interacting with the young apprentices, with many laughs and enjoyable stories told. It was great to see how proud they were of the project. Whenever loved ones visited them and commented on it, they could proudly say they helped make it." said Virginia.
First, the merry band of resident builders made two large 3D reindeer and a sleigh, which they outlined in fairy lights so they could also be enjoyed by night. The residents were then involved with plenty of sanding, nailing, and painting. With lots of hard work combined with the generosity from the local builders, the archway project soon came together.
Castlewood joined the Enliven community in June 2022 and is managed by Leigh McLeod, our Ranui Care Home Manager. Located in sunny Alexandra, Castlewood enjoys a central location and provides a friendly, active and supportive environment where families are an important part of the home's community. Castlewood offers rest home level care for up to twenty residents.
Banner photo: Residents Stewart McDonald, Joe Craighead, Dint Halliday, Wayne Goodall, Ted Dreckow and volunteer Matt Green from Ussher Green Building with the reindeer from the archway they built at Christmas.
High tea garden party
One of Castlewood's volunteers, Jeanie, hosts the residents one afternoon a month for high tea. With a different theme each month, this is a fun outing which everyone looks forward to! The most recent theme was a 'teddy bears picnic' garden party, which saw residents and volunteers making the most out of the beautifully warm weather, with tables set up outside, cool drinks and delicious food. A huge thank you again to all our marvelous volunteers!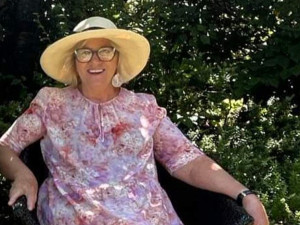 Volunteer Jeanie, hosting the high tea.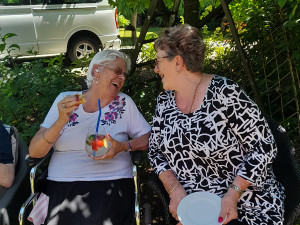 Resident Hazel with volunteer Kay who helps with van outings and housie.
---