Our Community Connector, Ruth, gets to see the value of Family Works services up close every day. The scope of Family Works activities is intentionally broad, so that when someone walks into the foyer or calls the office, we can respond quickly and with agility to their individual needs and circumstances.
One such response was for Gillian. Gillian came into Family Works looking exhausted, and her conversation confirmed this. Gillian had just moved from one Kainga Ora (Housing New Zealand) home into another smaller one. Gillian was now living on her own for the first time in a long time as her twin sister had gone into hospital care.
Much of Gillian's exhaustion and agitation stemmed from the fact that her furniture, paintings, plants and other home comforts had not been set up in her new house. Being older, and having physical limitations, Gillian had been unable to put sheets on the bed, lift the sofas up onto their blocks, or even set up her television.
Alongside this, Gillian had a significant electricity debt from her old home and consequently had been unable to get the power connected at her new home. Gillian's debt had accumulated when her twin sister, who contributed to the bills, was hospitalised for several months – Gillian had been determined to keep her home ready for her return. Gillian's home help situation was rather murky too, and Gillian wasn't receiving the help she needed, leaving her frustrated with not being able to get things sorted in a way that worked for her.
Within the hour of Gillian expressing her immediate needs, Family Works staff were at her home moving around furniture, making her bed, and then advocating with the power companies to get her power on.
Soon after, staff organised Taskforce Green to assist with her plants and pictures, and sorted home help collaboratively with Access Ability, and much more to turn her new house into a familiar home.
The effect on Gillian was immediate. Gillian's whole demeanour was lighter and happier. Hidden behind the initial presentation of stress and anxiety, was an intelligent, vibrant woman with story after story of the wild adventures of a full life, well lived.
On one occasion when Ruth was visiting, Gillian asked if the radio was too loud. Ruth replied it was fine. This ignited a memory for Gillian, and she went on to recall the day the Beatles came to Auckland in 1964. With sparkling eyes and a proud, wry smile, Gillian confessed she had been at work but had taken an extended lunch to go and see them at the Town Hall. With even more delight she added that her twin sister had done the same thing. "We hadn't even planned it that way".
In another of Gillian's tales, she recounted having a job at a hotel requiring formal attire for staff. "We'd raise the flag each morning and we wore gloves." The hotel had many dignitaries and politicians stay, leading the chefs to make glorious meals for the special guests, but as Gillian explained, "us staff would get to eat them as well!"
Former Prime Minister, David Lange, was once one of the VIP guests who needed Gillian's help. "I remember we had a Tardis for our guests to take their phone calls. I knew how to work the telephone system and although normally guests would take their calls inside the Tardis, David wasn't so keen". Gillian continued to share the humour of the occasion, "I remember laughing with him as I handed out the phone to him." It's not every day you get to help out a head of government.
With renewed vigour, Gillian's stories flow, as does her renewed wellbeing and independence. For although PSO continues to provide some support, for the most part Gillian has found her own rhythms again. More art is up on her walls, and there is a new vegetable plot to be nurtured. Gillian now has a good relationship with her home help and others in the community.
PSO will always be there for Gillian, and whenever we pop by, Gillian will always have a story for us, "Ruth, remind me to tell you about the time when…"
More settled in her new home these days - Gillian is so proud of her new plants and two new bantams – Thelma and Louise.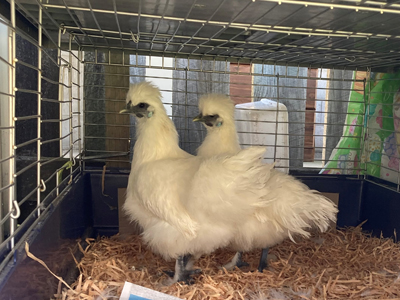 Our Family Works team is here for people who need support, whether it is support with food, social work, parenting, budgeting or more, we can help!
Call us on freephone 0508 396 678 or visit www.psotago.org.nz for more information.
---