At Presbyterian Support Otago we have been working with Servants Health Centre to provide life's essentials for people in our community.
After suffering a stroke last year, Trevor was confined to his house due to mobility issues. Together with Cathy, his patient advocate at Servants Health Centre, they thought a mobility scooter could be the answer to this challenge. They initially applied to the Lottery Grant Scheme but discovered that although Trevor was an ideal candidate, there was a waiting list of two years.
WINZ then suggested they investigate the Good Loans Programme, and with the help of our community finance loan worker, Trevor applied for a Good Loan to purchase a mobility scooter, and he is now fully mobile and enjoying his freedom again!
"I'm so happy now that I have my scooter. Before getting my scooter, I didn't even want to get out of bed as I was stuck at home doing nothing. Now I can go down to St Clair and buy a coffee and watch the surfers".
Our loan workers assist with the whole process of applying for a Good Loan to ensure that clients are comfortably able to afford repayments.
PICTURED ABOVE: Trevor with his new mobility scooter, together with Mel Aicken (Presbyterian Support Otago) and Cathy Tucker (Servants Health Centre, Dunedin)
Please note with Covid restrictions, while we are happy to start the loan process at any alert level, loans cannot be approved until Level 2.
Good Loans are designed to help New Zealanders with limited incomes improve their quality of life!
Our community loan workers can help people on limited incomes apply for a no or low interest loan to buy essential items like second-hand cars, car repairs, computers, new household appliances, education related costs or to pay for medical and/or dental services. We also offer a 'DEBTsolve Programme' where we can refer you to Debt Coaches who work alongside you to find solutions to high interest or unmanageable debt.
Good Loans are provided by Presbyterian Support Otago as a community provider of the Programme which is a partnership between Good Shepherd NZ / BNZ and supported by MSD.
For more information about Good Loans visit www.goodloans.org.nz or call us on 0800 477 711.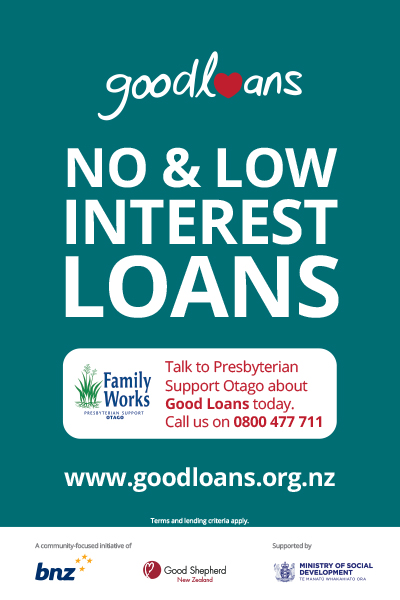 ---
---