Ingredients
900 gm pumpkin
400 gm kumara
3 Tbsp oil
1 onion
2 garlic cloves
2 Tbsp plain flour
½ tsp curry powder
Salt & pepper
6 cups vegetable stock
1 cup coconut cream
Method
Cut pumpkin into large wedges, keep skin on, also cut peeled kumara into large chunks.
Spread out on oven tray, drizzle with oil and sprinkle over salt and pepper. Roast in oven at 180 degrees until soft.
Scrape pumpkin from skin (it should come away easily) and pop the pumpkin and kumara into a large pot (or slow cooker to prevent it burning on bottom of pot). Sprinkle over the flour.
Dice up onion and finely chop garlic, fry off in 1 Tbsp of oil, add curry powder. When cooked add to pot.
Add vegetable stock to pot and simmer away until well cooked. It should be still quite thick, not too runny.
Using either a hand blender or a kitchen whizz, puree the soup. Then re-heat along with the coconut cream, do not boil.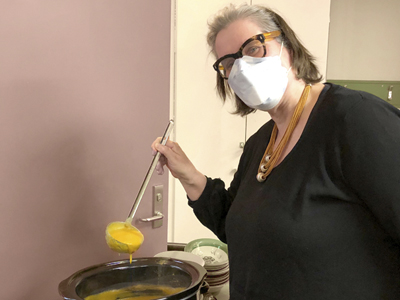 ---