Presbyterian Support Otago has over 500 volunteers across our Enliven carehomes and community programmes, Family Works, foodbank and retail shops. We rely on this amazing team of volunteers to support our community, and we are extremely grateful! Volunteer Week is an opportunity to celebrate and thank our volunteers. Without their efforts we wouldn't be able to do what we do!
VOLUNTEER WEEK JUNE 2022- Time to Shine / He wā pīataata
Honouring the collective energies and mana of volunteers in Aotearoa.
Meet Sheryl - volunteer extraordinaire at Op Shop on St Andrew
Where do you volunteer?
At Op Shop on St Andrew, four mornings a week.
How did you get into your role?
I just walked in and asked if they needed help.
I had a wee interview, and then I just started.
I've been here about four years.
What do you do in your role?
A little bit of everything. Serve customers, price, rotate stock. I'm a chatty Cathy, I hum or sing along to the music.
What do you like about volunteering?
I like everything about it! There isn't a pill you could take that would replicate the feeling I get from helping. You couldn't bottle it! It's the people that make the shop.
Staff member Margie says, "Sheryl is great, brilliant, does everything."
What do you like to do when you're not volunteering?
I like doing things with my hands, like gardening and knitting. I knitted my way though Covid, knitting baby things for the shop. If it's raining, I love reading, I read like a piranha, I'm always singing - yesterday I sang the Sound of Music while working in the shop. I love the movies, any movie!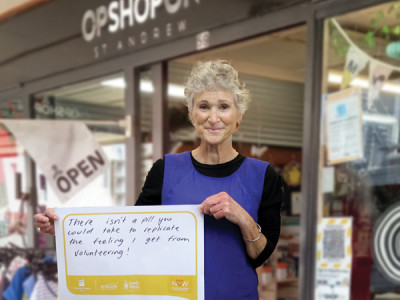 Profits from Shop on Carroll and Op Shop on St Andrew are directed back to our Family Works services, such as the Family Works Foodbank and Buddy Programme. Both our shops are vital pieces of the financial sustainability puzzle for PSO as a charity, as well as knitting our local Dunedin community together, and keeping gently used clothing and retro gems out of landfill.
We are always looking for more volunteers for our shops - a fun and friendly place to volunteer while giving back to your community. By volunteering at our op shops you are helping support Presbyterian Support Otago's Family Works programmes and social services. ❤
For more information about volunteering visit www.psotago.org.nz/volunteer or contact our volunteer coordinator Jasmin on 027 700 1550.
---