PSO is very grateful to the support we receive from Presbyterian churches across Otago. Here's a snapshot of some of the wonderful work that's being done.
A freezer was donated by the Portobello congregation to our foodbank.
Waireka-Weston parishioners did some gardening at one of our Family Works client's home.
The Eveline Church in Oamaru donated food from their Thanksgiving Harvest to local families.
We have wonderful volunteers from St Paul's Oamaru visit Iona residents and organise indoor bowls.
Mornington parishioners provide food to our foodbank and we receive regular donations from Knox Church, First Church, St Phillips/Grants Braes and others.
A member of the East Taieri Church donated a porta cot, a distressed parishioner was put in touch with PSO support services and a couple from the church have offered to become volunteers.
Lawrence/Waitahuna parishioners donated 100 cans of food to our foodbank. A young person has offered to volunteer in one of our Enliven aged care facilities and also become a Buddy.
A lesson in giving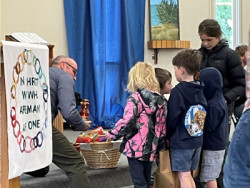 Children from the Flagstaff Community Church had a great time recently playing 'shops'.
The idea was for the children to earn 'dollar bucks' by weeding the church carpark and then spend their money at the 'shop', the shop being set up at the church where the children could spend their hard-earned 'money' to buy food to be donated to our foodbank.
Upcoming Support Sundays
Please contact Joy Davis on 03 477 7115 if you would like more information about our Support Sunday services.
17 September Palmerston/Dunback
24 September United Church of Port Chalmers – Sawyers Bay Church
29 October Mosgiel/North Taieri
---
---