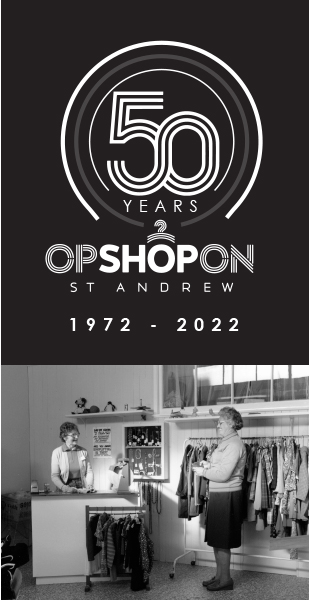 Op Shop on St Andrew has been providing good pre-loved clothing to the community for 50 years.
Current shop manager Fiona Dodds visited the shop's first manager, Mary Williamson, recently to reminisce about the shop's early years. When it first opened in 1972 the shop was a big hit with Otago University Students – with men's collarless shirts and pullovers (a size or two too small) being the most popular items. Since then, the shop has gone from strength to strength, and now not only contributes back to PSO (supporting social services), but also gives clothing new life, preventing serviceable items from going to the landfill, and helps people to afford good quality clothing at reasonable prices.
Mary still has a collection of articles and stories from her time as manager. She remembers "it was really well received, especially by the students. You could see people thinking "somebody else's clothes, will I or won't I?" But it was really busy once it opened, and there was a real need. The best thing was seeing the helpers really enjoying themselves, and seeing them dealing with the customers. In our day, it was full to overflowing!"
Fiona added, "The Op Shop is still popular with students. Op shopping is now very popular and has quite a following. It is now very much a culture. People are thinking about sustainability, reusing, recycling and keeping the world green, rather than just clothing the family."
To remain sustainable, the Op Shop continues to rely on donations of good used clothing, and the kindness of volunteers. Most clothing is priced between $1 and $4, and Family Works also distributes clothing vouchers for the Op Shop to those who are facing hardship.
Banner image: Current and original Op Shop managers, Fiona Dodds and Mary Williamson.
Op Shop On St Andrew – the early years
The Op Shop welcomed its first customers in February 1972 and was open three days a week from 10 till 3. The shop was staffed by manager Mary (whose husband Bill was a Presbyterian Minister at Caversham) and one paid organizer. By 1985, the Op Shop was so popular, more space was needed, so extra warehouse space was leased to store donated clothing which was yet to be sold.
Op Shop on St Andrew
59 St Andrew St, Dunedin
Monday to Friday 10am – 5pm Saturday 10.30am – 4pm
03 477 5019
---