Labour Weekend SALE & 21st birthday celebration
22 - 24 October 2022
Come and join in the birthday celebrations in store!
Our expert garden centre team will be on-site to share their wealth of knowledge with you.
146 Norwood Street, North East Valley, Dunedin
Open 7 Days 10am-4.30pm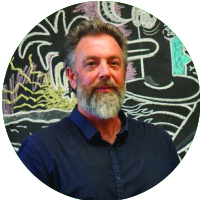 There are many different pathways to a connected and fulfilling life. Some young people don't thrive in traditional school settings, and providing them with an engaging alternative was one of the main motivations for the creation of YouthGrow.
YouthGrow began life back in 2001, as a joint venture of Presbyterian Support with the Leith Valley and Knox parishes of Dunedin, and since then, hundreds of young people have participated in this alternative education programme.
Based in a commercial nursery in semi-rural Normanby, Dunedin, YouthGrow is a 'life ready, work ready' programme for 14 to 24-year-olds, helping them build on their skills and find a job that's right for them, while working towards NCEA Level 1 & 2 credits.
David Pirie was appointed to the position of YouthGrow Manager earlier this year and told People "I am extremely passionate about youth mental health, wellbeing and resilience, and ensuring all young people transition to further education, or training and employment, while also being connected to a strong community."
"Currently, participants are actively engaged in tasks and projects that help them gain skills to deal with the complexities of life. This can include NCEA unit standards that lead to credits in horticulture and life skills curriculum subjects – such as financial capability/budgeting and core numeracy and literacy."
At Presbyterian Support Otago, we are proud to be helping young people grow safe strong connections to their communities.
Photo insert: David Pirie - YouthGrow Manager
YouthGrow stall at the Farmer's Market
Come see Murray at the Otago Farmer's Market on Saturdays at the Dunedin Railway Station - look out for our bright yellow van!
Did you know? Sales from YouthGrow Garden Centre and YouthGrow's stall at the Otago Farmers Market help fund this important programme.
YouthGrow 21st Birthday Symposium
This year the YouthGrow Programme celebrates its 21st birthday and plans are afoot to bring together a symposium of past and present participants, workers and volunteers, to commemorate this evolution over time.
If you have a historic connection to YouthGrow or would like to register your interest in attending this special event please email david.pirie@psotago.org.nz.
---