Foodbank volunteer, Audrey Clarke, is described by the people she works with as having a heart of gold, a big smile and always willing to help. She'll even volunteer when she's not rostered on!
We asked Audrey a few questions to find out more about her.
How long have you been volunteering at PSO's foodbank?
I saw an advert in the paper, applied and I have been here for six years now.
What changes have you experienced in that time?
It's a heck of a lot busier than when I started! I used to have time to clean up the kitchen, but now there's no time for that because there's more important things to do. We have to make ourselves stop for a cuppa!
What do you do in your foodbank role?
Oh all sorts, it's busy! Making up food parcels, counting donations, and breaking down bulk donations. During the Covid response it was a good challenge. We delivered food parcels to people in isolation, down driveways, up footpaths and steps. Staff carried the heavy ones – it was an adventure.
Christmas is always special, it's over-the-top-busy but we have a lot of fun.
What do you enjoy about volunteering?
It's absolutely full on, but I enjoy the company and I like the people. We have great laughs, that's what it's all about, not just making food parcels but making jokes.
What's your advice to someone considering volunteering?
Do it, everybody needs that extra bit of help.
At PSO we have over 500 volunteers across our Family Works foodbank, Stepping Stones, Buddy Programme, retail shops, events, Enliven care homes and community programmes.
Without our amazing team of volunteers, we wouldn't be able to do what we do!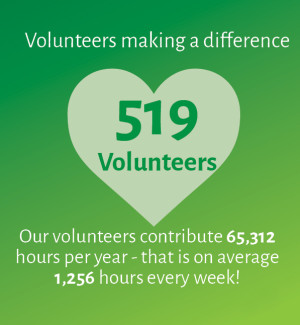 ---
---