PSO is excited to add Castlewood in Alexandra to its Enliven family of care homes, and we have long term plans to develop this site into affordable retirement village units.
In the meantime, Castlewood's residents have a secure future in the home they have come to know. We have retained Castlewood's existing staff as far as possible because we appreciate the importance of relationships and continuity of care.
PSO's CEO and Acting Enliven Director, Jo Rowe, said that "in line with PSO's organisational mission to walk with people across the generations to create together places to live, learn and thrive, our long-term plan, within three to five years, is to expand our Ranui care home in Alexandra, and to build new retirement village units on the Castlewood site. At that time, every Castlewood resident will have the opportunity to relocate to our Ranui home, into a spacious, well-appointed room."
PSO wants to build retirement units to increase the housing options for people reaching retirement age in the region, and to support an additional income stream for PSO which can then be channelled back into our care homes and social services to further strengthen our community.
Castlewood is now part of PSO's Alexandra family and is managed by Leigh McLeod, who is also the manager of Ranui. Leigh welcomes enquiries from anyone in the community looking to make Castlewood their home.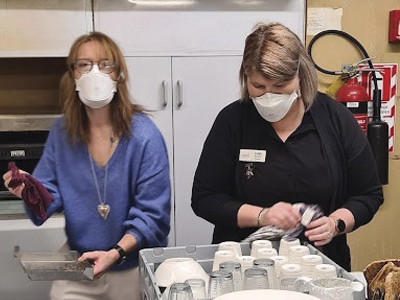 CEO Jo Rowe and Manager Leigh McLeod preparing breakfast for the residents to welcome them to Enliven.
---