Bev Nuttall has a serious job at our Enliven care home Iona, in Oamaru, but her name is a perfect fit for her bubbly and whacky sense of humour because she's a little bit nutty and Iona residents love her!
Every day when Bev comes to work, she's connecting with residents and she's a dab hand at organising activities. She's also connecting them with their wider community when they have trips to local attractions and visit community groups. This included a recent outing to Weston School to see the children perform kapa haka, which was a resounding success, as the residents were thrilled to witness the powerful performance.
We wanted to find out a bit more about Bev so we asked her a few questions.
What do you do at Iona?
I'm the Activities Supervising Coordinator. I do a lot of organising, coming up with fun ideas and encourage residents to keep active by participating in the activities.
What do you like most about providing activities for residents?
I love to see them happy, laughing and having fun. This is their home, and it should be all about them. We focus on fun so it's not unusual to see the Activities team dressed up in silly clothes – pirates, royalty, colour-themed days, pyjamas, just about anything goes. There isn't anything we won't try!
If someone was interested in moving to Iona, what's something special about the care home that you would tell them?
I love how we have principles and how we work our magic around them. I am also a great believer in the fact that this is their home, and we are privileged to work here. Our residents are encouraged to have their room set up in a way of their choice. That includes hanging pictures on the walls and having personal momentos around them.
Our team is so friendly and caring towards our residents which is very important, so they feel loved, cared for and that they're not alone.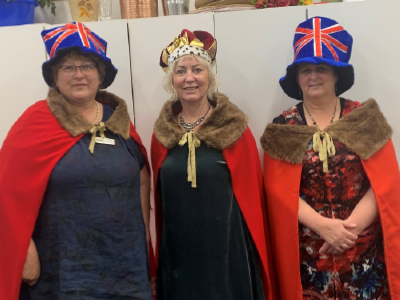 Photo: Karen Rowe, Bev Nuttall and Nicky Jensen at Iona celebrating Coronation Day
Banner photo: Bev Nuttall, Activities Coordinator at Iona, having her hair done by one of the residents on pyjama day.
Iona has led the way in quality residential care for older people in North Otago for more than 60 years.
Beautifully positioned in large park-like grounds, Iona is very much a part of the Oamaru community. Set back from the busy road, residents love to watch the world outside from the comfort of the lounges; an ideal place to spend time with visiting friends and family. With a comprehensive range of care options, Iona's spacious facilities and skilled staff ensure the highest quality of life for residents.
Iona offers rest home and hospital level care, with a secure dementia care unit.
We currently have bedrooms available for new residents to join the Iona family.
To find out more and arrange a visit please contact Iona Manager, Stephenie Leith on 03 437 1870 or email stephenie.leith@psotago.org.nz.
Visit our website's Iona page for more information.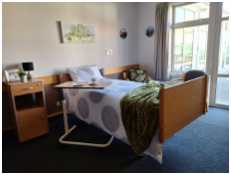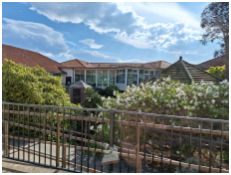 ---
---